Save today.
Save tomorrow.
ENJOY UP TO $491/YR. IN ENERGY COST SAVINGS1
The next-generation Richmond ENCORE® Hybrid Electric Water Heater delivers savings when you buy—in the form of a federal tax credit and local utility rebates up to $1,0002—and up to $491 per year in energy cost savings.
EARTH FRIENDLY EFFICIENCY
4X as efficient as a standard electric tank—produces fewer greenhouse gases3
WORRY-FREE PROTECTION
Exclusive water leak detection and auto water shut-off valve guards against damage and offers peace of mind4
BUILT-IN ECONET®
Control water heater settings right from your mobile device5
SIMPLE INSTALLATION
The Richmond® Hybrid Electric is built with the plumber in mind—installs like a standard electric water heater, and all service parts are on the front of unit for easy access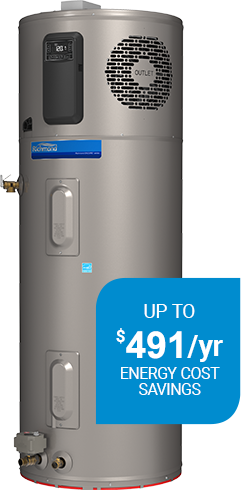 Did You Know?
Richmond ENCORE® Series Hybrid Electric uses less energy to operate than a classic 100 Watt incandescent light bulb6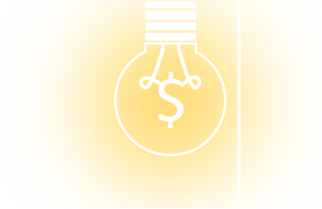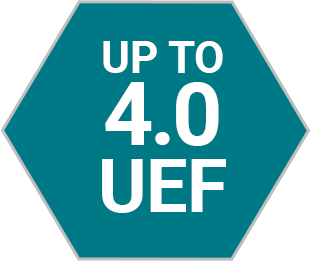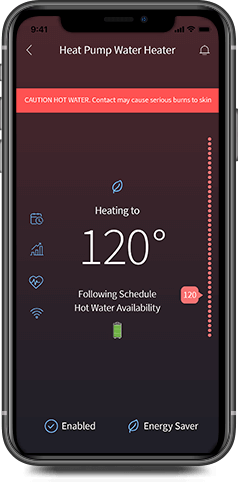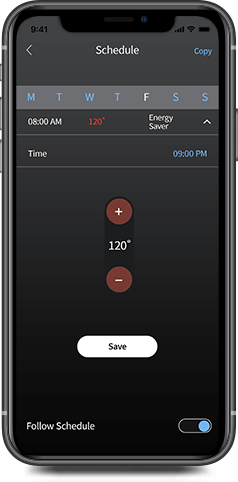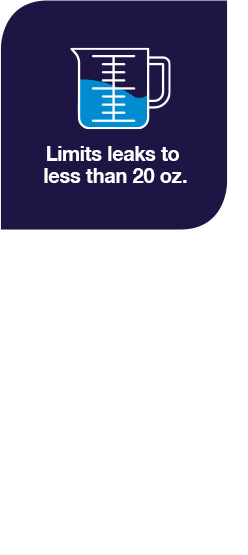 9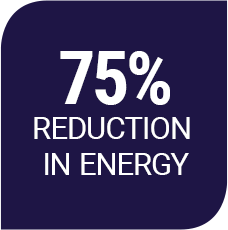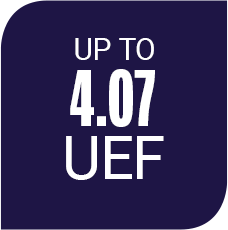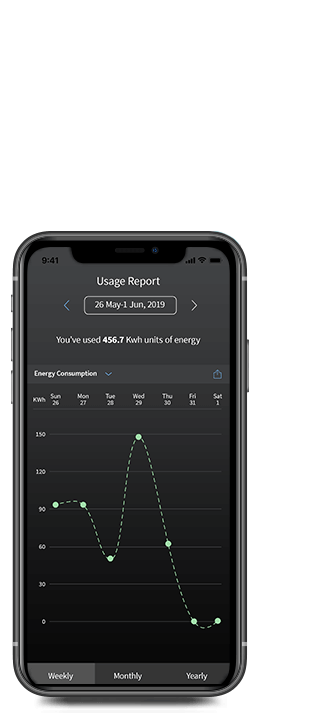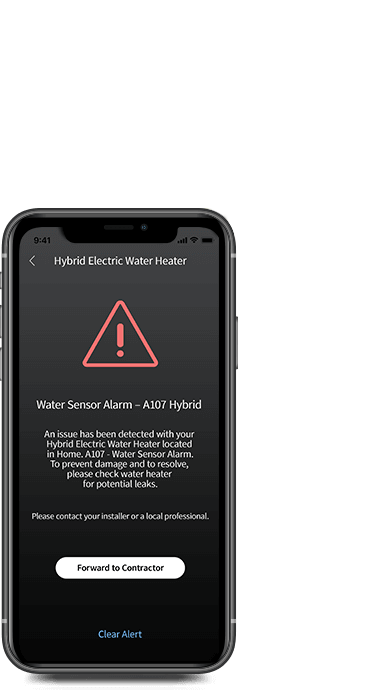 FEATURES & BENEFITS
Lower Energy Costs

Save up to $491 per year in energy costs—that's almost $5,000 over 10 years!

Energy Saving Scheduling

Program your water heater to match your needs throughout the day—higher production during high use times, like the morning, and lower production for energy savings when no one is home

Save with Vacation or Away Mode

Reduce water heating costs while you're away for a week or just for the day—it's easy to set from your phone even if you've already left home

Demand Response Scheduling

You can save up to $400 over the life of the heater thanks to off-peak energy rate scheduling with built-in demand response scheduling—letting your utility company shift the energy usage in response to the overall demand for energy at a given time7

Peace of Mind Protection

LeakGuard™ Auto Water Shut-off Valve prevents water damage with all-inclusive leak detection and prevention system that limits leaks to no more than 20oz of water8

Smart Mobile Connection

Built-in EcoNet WiFi technology lets you adjust water temperature, track energy usage and set operating mode—all from your mobile device

Most Efficient

The Richmond ENCORE Series Hybrid utilizes heat pump technology to pull heat energy from the air around it to heat your water, making it the most efficient water heater on the market10 with up to a 4.0 UEF

Track Your Energy Use

View weekly, monthly and yearly energy usage reports from your phone to help you better

Operating Modes & Scheduling

The ENCORE Hybrid Electric uses 75% less energy9 than a standard electric water heater to help minimize your impact on the environment—that's 4X as efficient as a standard electric water heater

Intelligent Service

Plumbers can view detailed alerts and alarm codes while at the water heater via the Contractor App to expedite service11
Four Hybrid Sizes to Fit Your FAMILY'S HOT WATER NEEDS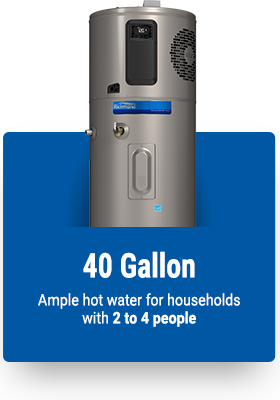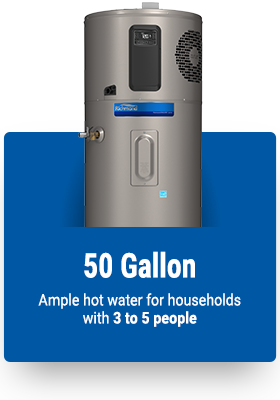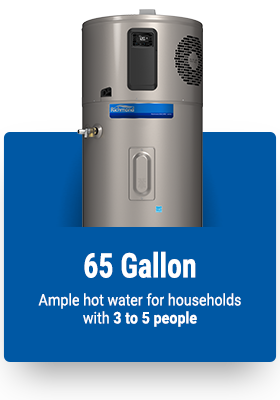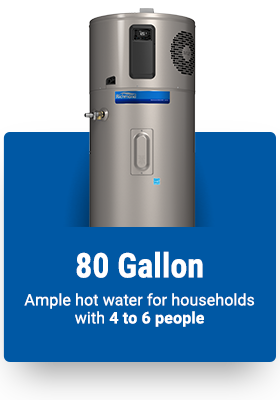 Upgrading is Easy
Making the switch to hybrid heat pump technology is simple. All Richmond ENCORE® Series Hybrid Electric Water Heaters have zero clearance requirement, making them a smart replacement option—even in tight spaces, like a closet.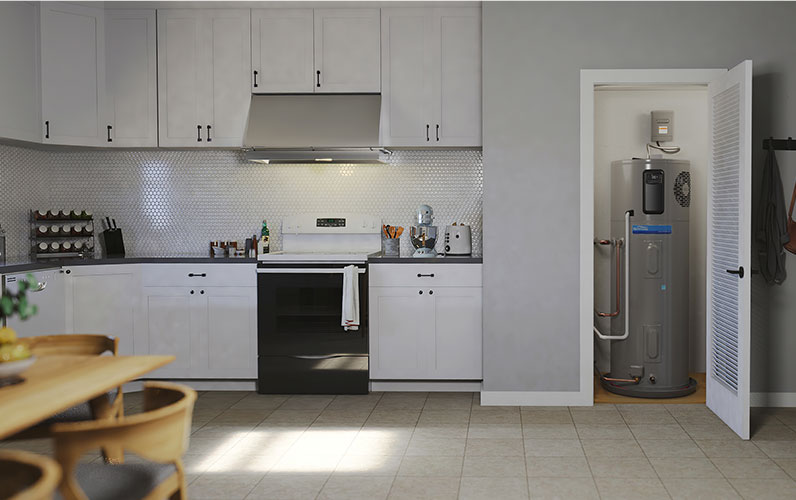 Knowledge is Power
With integrated WiFi, homeowners can avoid cold showers, detect leaks and more. It's all possible with the Richmond ENCORE Electric Water Heater with LeakGuard and the EcoNet® App.
EcoNet Home Screen
Check and adjust temperature, set schedule, change operating mode and view energy usage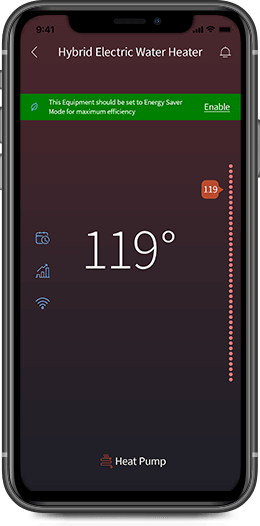 Hot Water Availability Indicator
Avoid cold showers by checking if there is enough hot water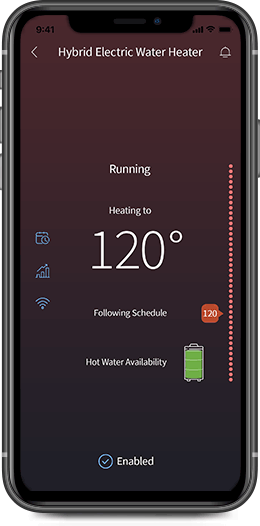 Element Health Indicator
Identify which element needs to be replaced for easier service call scheduling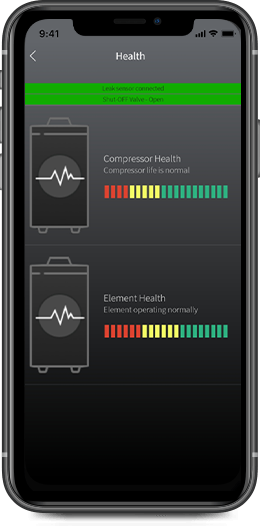 Energy Usage Tracking
View weekly, monthly and yearly energy usage reports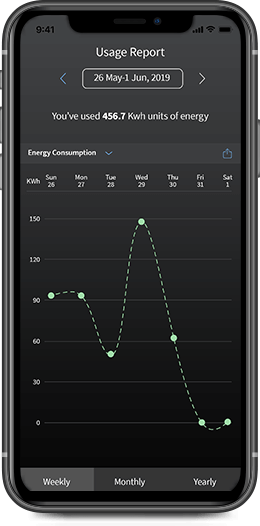 Mobile Alerts
Learn immediately about any service needs or unexpected leaks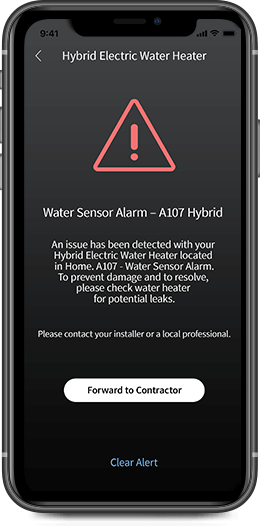 Water Temperature Control
Adjust water set temperature to balance hot water needs via the EcoNet App or hands-free voice control with Amazon Alexa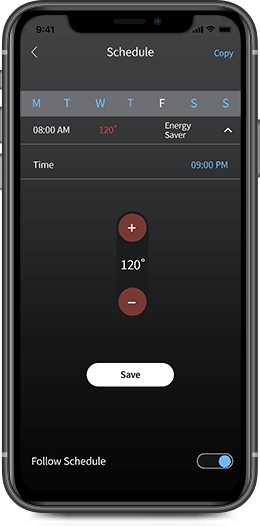 Setting Away and Home
Save energy on water heating costs while away and return home to a tank full of perfectly hot water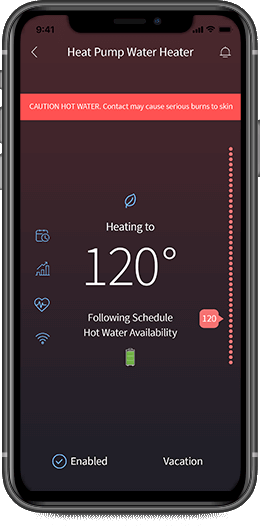 Contractor Information
Helps you connect with customers by giving them an easy way to reach and share codes with you for repeat business and simpler service calls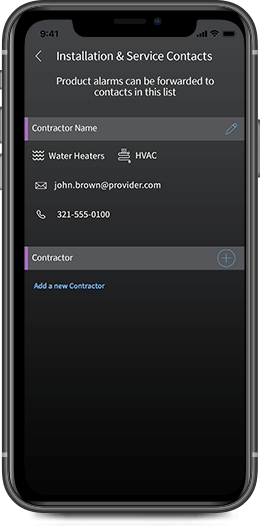 Advanced Diagnostic
Allows plumbers to view detailed alerts and alarm codes while at the water heater to expedite service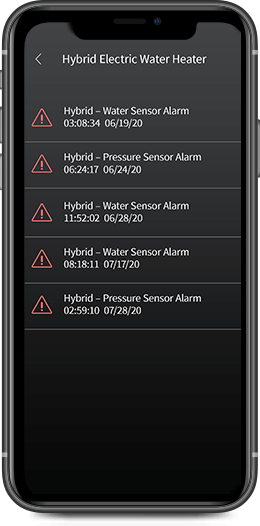 1$491/yr. savings based on estimated annual energy cost savings of the 30 Amp 50-gallon model; $4800 savings based on annual savings across the 10-year warranty period. 2Federal tax credit applies to 40-, 50-, 65- and 80-gallon models; Additional savings applies to 40- and 50-gallon models only; Information on tax credits accurate at time of publishing; Consult your tax advisor for details on eligibility requirements for any available tax credits. 3Based on comparison of a 50-gallon Richmond ENCORE Hybrid Electric Water Heater and a standard electric water heater of like capacity. 4Leak detection and leak protection built in for Richmond ENCORE Hybrid models with LeakGuard only. Leak detection and leak protection available as accessory for standard Richmond ENCORE Hybrid models. Leak detection available as accessory for Builder models. Note: Leak detection and leak prevention add-on accessories operate differently than built-in features of Hybrid with LeakGuard models. 5WiFi broadband connection and EcoNet App required; notifications are dependent on external factors beyond Richmond's control. 6Compared to a 100-Watt incandescent light bulb with annual operating cost of $131. 7Based on internal testing and the SMUD cost for peak / off peak pricing and season difference. 8Applies to Richmond ENCORE Hybrid with LeakGuard models only. Richmond leak-sensing data; testing under a vacuum lock using 50-gallon tank, no expansion tank, average tank pressure of 40 psi, assuming no additional faucets are opened. 9Based on comparison of a 50-gallon Richmond Hybrid and a standard electric tank with minimum efficiency. 10Based on review of water heaters available. 11WiFi broadband connection and Rheem® Contractor App required; connection between water heater and app dependent on external factors beyond Richmond's control.