EXPLORE
choose the right tankless electric water heater for you
Richmond® Tankless Electric Water Heaters make it easy to enjoy instantaneous, continuous hot water, space-saving design, and significant energy cost savings.
Just follow the three simple steps below to choose the right model and size you need.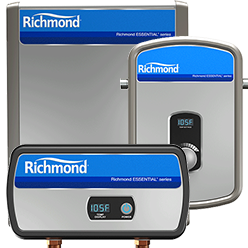 1.
Select your region
Click on the map below to identify
the region where you live.
Region Selected
2.
Choose your voltage
& faucet location
Find out your current voltage and then choose
the faucet location you need.
Need additional sizing options?Call us at 800.621.5622
3.
Check our recommendations
Click the Learn More button below for each
recommendation to review sizes, specifications
and power requirements.